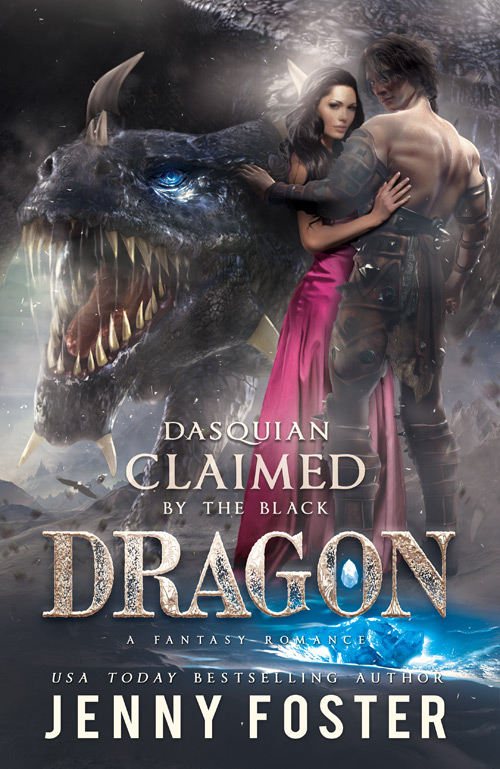 Dasquian – Claimed by the Black Dragon
A Fantasy Romance
A chosen dragon.
A human female.
An invincible creature that wants to possess her.
Shor Dasquian is a man who has a fearless dragon's heart beating inside his chest. When he prepares to fight for the woman from Earth, he does not know what events he will set in motion. She is the one – the woman whom fate has chosen to bring into his life, only to separate them from each other all over again.
His love for the woman changes him.
The brave man turns into a fearless one.
The loyal dragon-shifter turns into a relentless lover.
The strong dragon turns into an invincible being, who teaches even the most dangerous creatures from his home planet to fear him. Even an enraged king and a vengeful goddess cannot picture the black creature they have awakened inside Dasquian, and how far he is willing to go for the one woman he loves.
Dark, wonderful, and mesmerizing. Accompany Dasquian on his fantastic journey and experience vindictive goddesses from ancient times, a merciless creature born of fire, and a love story that remains unforgettable.
Warning: Intended for mature audiences. Can be read as standalone.
? Listen to a long sample on Bookfunnel
Available on Amazon.com | Audiobook on Audible.com
(Paid Links to Amazon)
---
"I was hooked from page one." –Amazon Reviewer
"WOW!! This is an absolutely captivating story. The storyline is intense, gritty and a bit dark. The characters are incredibly fascinating. It has a bit of everything- dramatic suspense, betrayals, apocalyptic action and undying love." –Amazon Reviewer
"This was one of the best romances I have read in a while…" –Amazon Reviewer
"Engaging from the first line!" –VINE VOICE
"Wow! What a heartfelt and wonderful love story between Dasquian and Jora and all their challenges along the way to find each other." –Amazon Reviewer
"The Prologue is truly amazing…the birth of a dragon shifter that comes with a curse. So it begins a story of a dragon and a human entwined by fate, curses, dark haunting romance, intrigue wrapped up in mysterious twists that will keep you on that edge we love so much." –Amazon Reviewer
"Entertainment excellence." –Amazon Reviewer
"I'm not sure if I can express how amazing the book is, I just know I fell in love with a book, with Dasquian, with Jora." –Amazon Reviewer
"A DARK AND DELICIOUS READ!!!" –Top 1000 Reviewer
"Jenny Foster knows how to weave words that bring life to the page." –Amazon Reviewer
"Wow! I love, love, love this incredible soul searing tale with all the drama and intrigue." –Amazon Reviewer
"I fell in love with this story and it is now one of my favorite books. This story is about a Dragon shifter and an earth woman who dreams of the person they love and when they meet sparks fly." –Amazon Reviewer
"I didn't want to stop reading this book. Well, to be honest, I couldn't stop reading this book. I just had to know what was going to happen to Jora and Dasquian. The author had me on the edge of my seat more than once." –Amazon Reviewer
"In romance stories, you know the guy always gets the girl. This story, however, makes one wonder. Will he get the girl? Will he be able to keep the girl? I loved the flow of this story. I loved the twists. I constantly felt the need to continue reading." –Amazon Reviewer
"This is a 10 star story, a must read." –Amazon Reviewer
---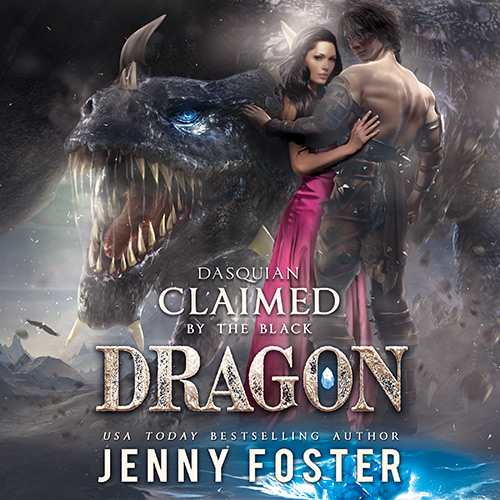 Also available as audiobook on Audible
? Listen to a long sample on Bookfunnel
Audiobook on Audible.com