Dear Readers,
Here are some of the best – and most unexpected – covers from the Souls and Shadows collection. Do you have a favorite? Click on the link below and let me know. You have 3 votes. There is no right or wrong answer. If you're like me and you can't choose, pick the cover of the 3 books you'd be most interested in.
If you're new to my list and haven't heard about the box set, Souls and Shadows is a LIMITED EDITION paranormal romance collection (including my novel, Lost Moon) with 25 novels written by some of today's hottest best-selling and rising authors. All for only 99 cents–however, the offer ends soon, more info below.
Cast your vote(s) now!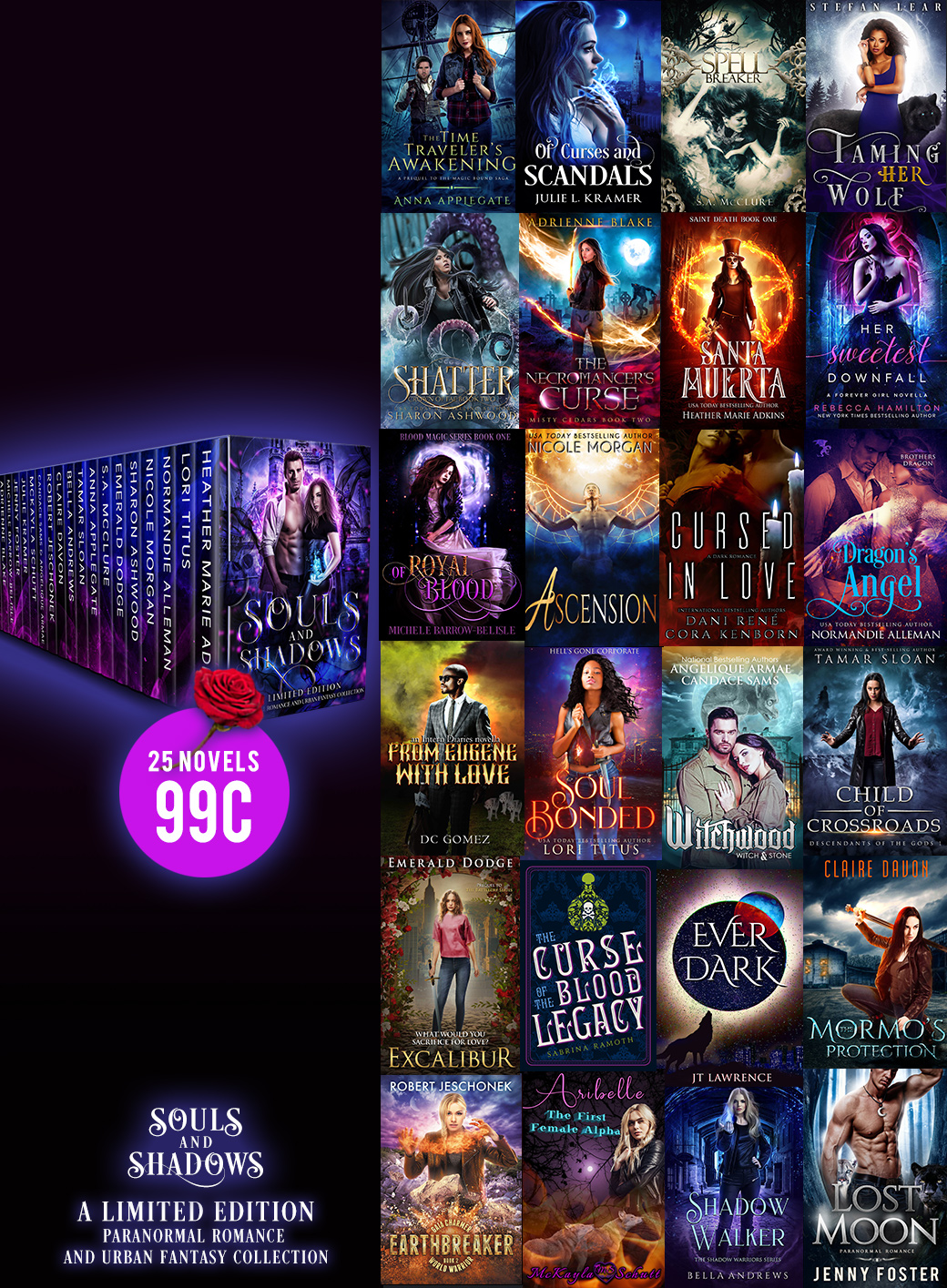 ▪️ Shatter
One lover is lying. The other will kill them all.
Tessa Harrison does not know her ex is the Sea King, a fae who needs her powers to save his kingdom. His enemy, the cursed sea captain Maxwell Stokes, is determined to stop him. One offers Tessa his crown, the other the last moments of a doomed life. The wrong choice could destroy two worlds.
▪️ The Mormo's Protection
He dared call a goddess's name…and now danger threatens all he loves.
Stavros didn't realize he called a goddess when he invoked the Mormo. Now it is not only Nyssa, the Mormo, who is coming to find him…
▪️ Lost Moon
He is a man who lives for only one thing. Revenge.
For two long years, panther shifter Rayne has chased the man who was once his best friend. But then Hailey gets into the focus of his enemy, and Rayne has to decide between his hunger for revenge and the life of an innocent woman.
▪️ The Time Traveler's Awakening
Evil has tipped the scales in the balance of time. Ember Brighton just doesn't know it yet.
Ember's family has been keeping a secret that will change her fate, and time itself. When a shifter with malicious plans goes on the warpath against Ember, she'll need all the help she can get to stop him…even if that help comes from the mysterious, too sexy for his own good, Rane Andersson.
▪️ The Necromancer's Curse
Beyond the grave, lies only death.
After beheading the arch vampire Micah and laying his evil to rest, Holly George thinks her troubles are over, but no. They are just beginning. She may not be undead, but her cells are changing, and she is human no more.
▪️ Witchwood
Magic has a mind of its own…
Matthew and Sienna are witches racing against time to save their bloodlines from the evil shadowing them.
▪️ Cursed In Love
Detective Mila Moroz never believed in life after death. Until the dead came calling.
After a serial killer's return, Detective Mila Moroz is sought out by a dark force. Determined to stop him, she seeks help from necromancer, Odyn Broussard who guides the beauty down a dangerous path. Now, bodies aren't just piling up. They're demanding justice.
▪️ Of Curses and Scandals
Magic has always been the thing that she relied on. Until now…
Scandal is a sorceress who works with the police to solve crimes, but when a series of villains threatens her city, she will uncover the true cost of her magic.
▪️ Spellbreaker
First Rule of the Coven: Never Break Another Witch's Spell.
Hunted by mythical beasts, scorned by the witch who raised her, and abhorred by other covens, Iris Valka must claim her powers before it's too late. Her life, and that of her twin sister, Emma's, is at stake.
▪️ Soul Bonded
Would the safety of your loved ones be a fair trade for a piece of your soul? Natasha Taylor is about to find out.
▪️ Earthbreaker
The power of Mother Earth is on her side.
As Mother Earth in human form, Gaia Charmer has all the power of the world behind her. But will even that be enough for this sexy, gutsy private eye to solve the mystery of her missing Landkind friends?
▪️ Excalibur
What would you sacrifice for love?
Heather is a superhero in San Diego, but she yearns for a different life. A dark deal with a local gang promises her freedom, but it might just come at too high a cost.
▪️ From Eugene with Love
When things look desperate, who would you turn for help?
Pestilence's Intern has done it again. Another dangerous drug has gone missing, and this time his colleague is missing as well.
▪️ EverDark
A vampire and a werewolf walk into a crime scene.
It's bound to be one hell of a week for Laurent & Shaw, the vampire-werewolf detective duo who solve the city's paranormal crimes. The clock is ticking, because it's almost full moon and Samira is about to turn. Will they find out who is behind the conspiracy before it's too late?
▪️ Aribelle: First Female Alpha
Being the Alpha is one thing but the first female alpha, above the males won't be easy… will Aribelle suceeed or be killed to make room for a male?
Aribelle doesn't want to be the alpha but what she wants doesn't matter. She's forced to make choices she never expected to make.
▪️ Child of Crossroads
People assume we can't survive without our souls…
Just as Haven's discovered people existing as Shells, she meets Caleb, a beautiful soul she's undeniably drawn to. Now she has to choose—her heart or the fate of humanity.
▪️ Of Royal Blood
Magic and love break all the rules…
In a world where magic means death, Katriana will risk everything to save her royal charge—even when it means outing herself as a witch and losing the love of the forbidden prince.
▪️ The Curse of the Blood Legacy
When a vampire's vendetta puts her coven at risk, Delphine must choose between saving them… or sacrificing herself.
After a devastating blow to the coven, Delphine uncovers a spell that can help prevent another attack, but it comes at a steep price: her life. Forced to choose between saving her coven and sacrificing herself, there's only one thing left for Delphine to do.
▪️ Ascension
▪️ Santa Muerta
▪️ The Curse of the Blood Legacy
Thank you for your vote(s)!
? Only a few days left to get our incredible bonus material!
Just a handful of days left until Souls and Shadows goes LIVE! Don't miss out! The pre-order incentive GOES AWAY when we launch, so if you want a million words for only 99 pennies, get yours TODAY!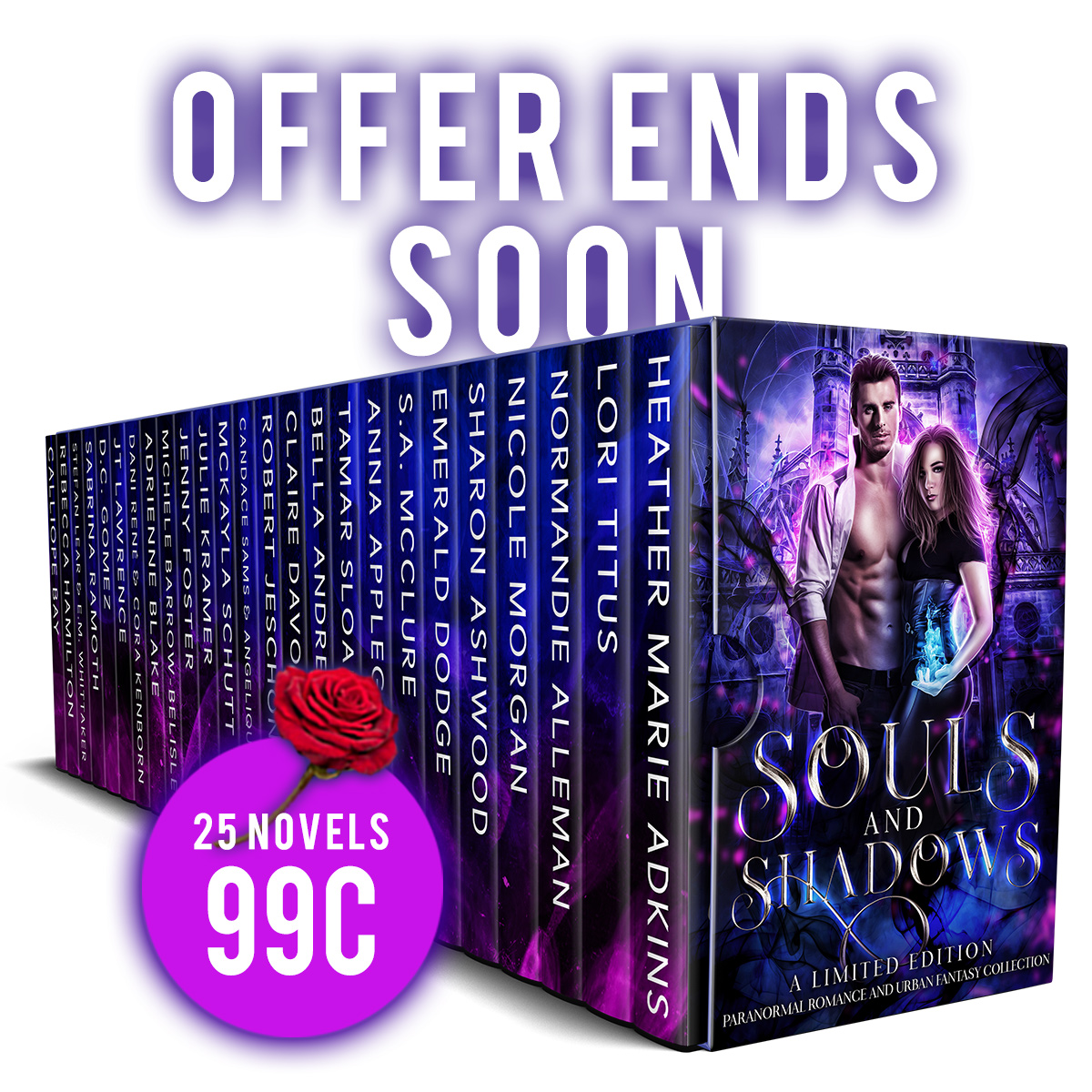 Preorder Souls and Shadows for only 99C and Grab your Freebies:
---