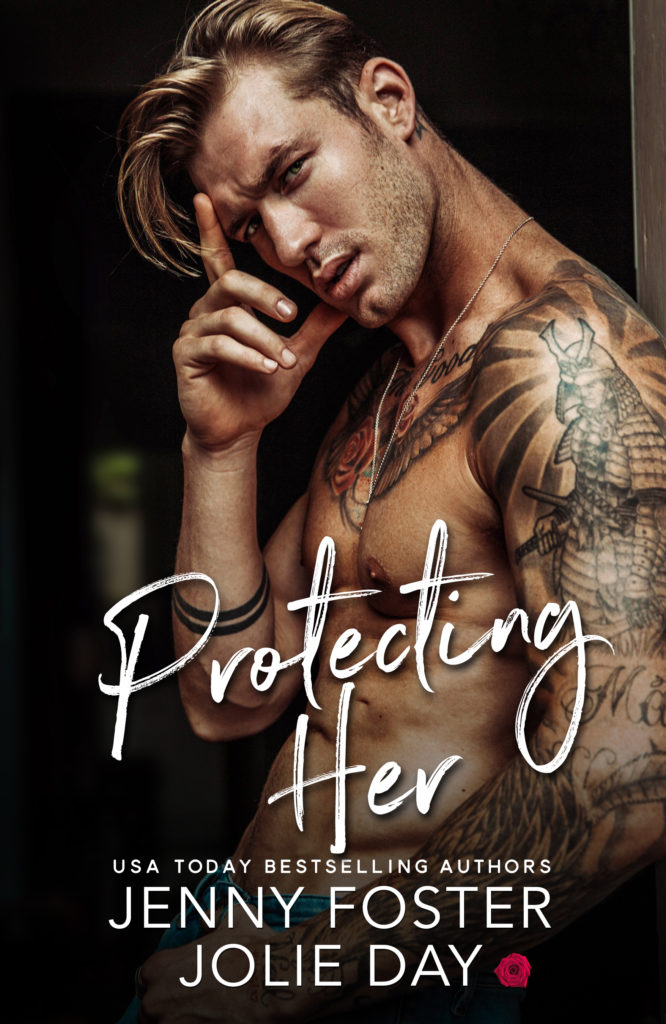 Protecting Her
I swore I'd never say her name again.
The day she kicked me out and broke my heart…
I was done.
But the moment I hear her trembling voice on the end of the line,
It takes everything I have not to destroy whoever is threatening her.
The last time I saw Clara, she was kicking me out.
So I left, started a new life for myself.
I became cold, dark and haunted,
And tried every damn day to forget her.
The moment I see her—it all comes rushing back.
The memories of my name tumbling from her pink lips,
The way her body begged to be taken by me.
The endless nights of passion that sparked a firestorm between us.
But now, she's scared.
I can see the fear in her eyes,
I can feel it in the way she clings to me.
And all my efforts to forget her, went out the window.

Nobody's solved more cases in Richmond than me,
But Clara—she's the one case I can't crack,
And the one that haunts me the most.
No matter what, I'll fight to keep her safe, but not from myself.
A case that was never solved. A woman who wants to free herself from the ghosts of her past. A man who has what it takes to bring light into her darkness. Nobody can resist the explosive appeal of Jacob and Clara—a top-of-the-line story, a sizzling romance, and an ending that will surprise everybody.

Protecting Her is a second chance romance novel with suspense.
No cliffhanger.
Warning: Contains mature themes and language.
Get the book here:
Kindle eBook on Amazon
Paperback on Amazon
(Paid Links to Amazon)

Here's what some of you had to say:
"WARNING: Do not start this book if you have to do something tomorrow. You won't be able to stop until you are finished!" -Amazon Reviewer
"You may find yourself holding your breath as events begin to fall into place." -Amazon Reviewer
"Romance with heart stopping thrills!" -Amazon Reviewer
"The characters are extremely well-drawn, and the storyline very expressive, grabbing your attention from the beginning and holding it until the end." -Amazon Reviewer
"When I started this book, I thought it was about a second chance romance, but it turned out to be so much more." -Amazon Reviewer
"I lost sleep because I couldn't stop until the end. It was intense, no lightness here." -Amazon Reviewer
"I was totally captivated by Clara and Jacobs journey. It's twist and turns pulled me in and kept me turning pages, riveted to every single word. It was such an intriguing, chilling and mysterious story that kept me caught up in its stunning writing. I couldn't put it down until I finished it. I definitely recommend this book to anyone looking for an amazing read." -Amazon Reviewer
"It sucked me in completely." -Amazon Reviewer
"I'm almost finished and can I say, WOW! You ladies hit this one out of the park!" -Amazon Reviewer
"Thrills and romance of the best kind." -Amazon Top 1000 Reviewer
"The author is known for writing astounding books but this one completely blew me away. She had my interest from the beginning and I lost sleep because I couldn't stop until the end." -Amazon Reviewer
"It is easy to highly recommend." -Amazon Reviewer
"Congratulations! Absolutely one of the most incredible books I have read!" -Amazon Reviewer
"I loved this book. I had a hard time putting it down to get some sleep. I tried to figure out who the killer was, but kept changing my mind." -Amazon Reviewer
"…completely blew me away." -Amazon Reviewer
"Sexy suspense! I was shocked at the climax, I never saw it coming! " -Amazon Reviewer
"I loved the past snippets giving me a slight insight into what happened, but at the same time keeping me strung along for the long haul – leaving me needing more." -Amazon Reviewer
"Worthy of a Perry Mason movie." -Amazon Reviewer
"Simply put I absolutely LOVED THIS BOOK!" -Amazon Reviewer
"I had my suspicions on who did what, but I was happy I was wrong as I don't like the story to be too predictable." -Amazon Reviewer
"The story is an entertaining mix of suspense, romance and heat that resolves with a satisfying conclusion." -Amazon Reviewer
"I still am stunned by the amazing novel I just finished!" -Amazon Reviewer
"This has been one of the best romance suspense novels I've read this year! Thank you!" -Amazon Reviewer
"Don't miss out on this fabulous book." -Amazon Reviewer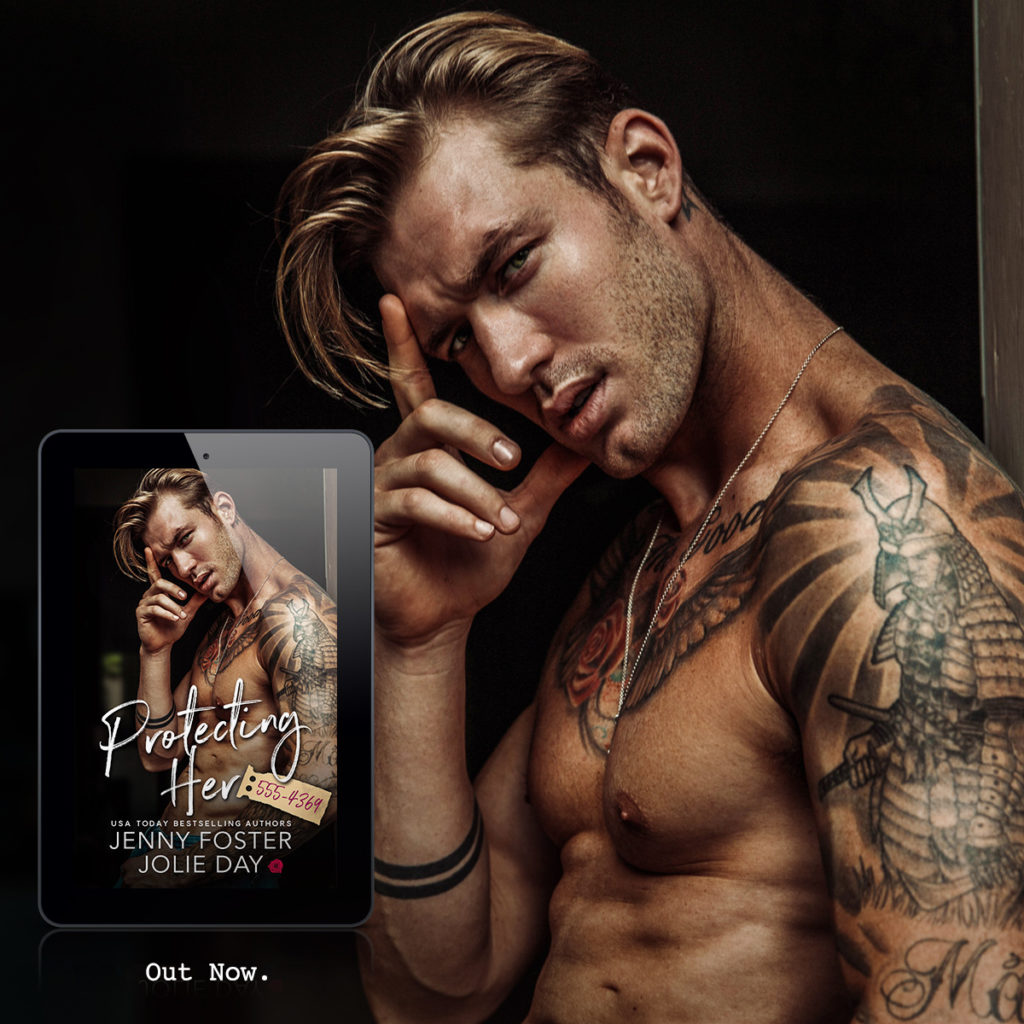 Trivia about Protecting Her
Two occupational changes, three endings and two name changes for the heroine—this is what Protecting Her has endured, before it was published in its final version. By the end, so many changes were made overall, that the final product was now merely a skeleton of the original idea.

The downside was that it suddenly missed that "certain something." It had a good ending, a round ending, one that wouldn't leave any questions unanswered—but it wasn't an ending with any kind of twist. I finally had the saving idea when I was walking outside with my two dogs in the evening, and I heard a man, only thirty feet away from me, suddenly start whistling a children's song. As you can imagine, I was extremely glad that my two black beasts were there with me!

So, if you would like to find out why Clara likes to hum that famous little children's song whenever she is stressed out, then have a look at Protecting Her!
---
Excerpt
I needed a full fifteen minutes to wipe away the runny mascara from my face, to practice a few short and effective exercises to relax my muscles, and to come to a decision.
Jacob … where should I begin?
He was my very first love, and he was the only man I had ever wanted to grow old with. I remembered so many moments when I had just looked at him in awe, because he was so very perfect. By that I didn't mean flawless—oh, no. Jacob had his flaws. He lived for his work. He wouldn't think twice about leaving everything behind and running over immediately, if a colleague called for help, or if he was called in on his day off to fill in for someone else. However, to me, he was perfect—strong, patient, understanding, and determined. He was not a man who condoned anyone's taking advantage of him, be it suspects, colleagues, or even me. But if you explained to him that you had screwed up, then he was the first to hold out a helping hand.
The question was, whether I had tested his patience too much when I ended things between us without an explanation. I had sent him away. I had even lied to him and told him that I didn't love him. I would never ever forget how every single one of my hurtful words had killed his love for me, bit by bit. How his eyes had grown cold, and how his face had lost all of its emotions.
Ironically, he was the only person I could ask for help now. What was I supposed to do if he laughed at me, or if he told me that he wouldn't be able to help me? Before I could come up with even more horrible scenarios, where Jacob rejected my request for help, I dialed his phone number. I still knew it by heart.
A computerized female voice informed me that his number was no longer in service. I had no other choice but to try my luck with the police department and ask them to put me through to Jacob directly. My heart felt incredibly heavy and I forced myself to dial the number. It was long after midnight now, however, if Jacob was still the man I once knew, even a little bit, then he would be working overtime, or at least checking in to see if he was needed for any emergencies.
It rang, and I secretly hoped Jacob wasn't there, or the person who picked up the phone would refuse to put me through to him, or … Someone answered, and greeted me with something that sounded much like, "RmndplicedeptmentOmallahrrHowcnIhlp." For a few seconds, I translated the mumbling into the correct "Richmond Police Department, O'Malley here. How can I help?"
I gave my name and address. Reciting certain facts helped me keep my anxiety in check; however, it was also done so that Officer O'Malley, with his sonorous voice, would take me seriously.
"I would like to speak to Detective Sawyer. Would you please put me through?"
He repeated my details and then informed me that Detective Sawyer was already off for the night. My heart beat like a hollow drum. O'Malley asked if he could help me. The obvious hesitation in his voice, as he repeated my surname, was understandable. Clara Borden was the name I had taken in honor of the only therapist who had ever helped me. However, it was also the name of the woman who had killed her father and stepmother with countless axe blows on August 4th in 1892, and who had never been convicted for it. Back then, I had thought that this was the perfect name for a thriller novelist.
Within mere seconds, I was forced to make a decision.
"I have received an ominous letter," I said, overcoming my inhibitions.
I told a complete stranger about the message I had gotten, explaining shortly, and, with quick bursts of breath what I had experienced. I didn't use any emotional soppiness, and I avoided words such as "felt threatened" and "unsafe." Still, I attempted to convey the urgency of this matter, as far as I was concerned. He asked me if I had ever been threatened before, and if there was maybe some court order against an ex-partner of mine. Was it part of the regulations that they had to use a neutral term, and not automatically assume a gender? I could almost imagine how the man on the other end of the line was desperately searching for some solid facts. He wasn't alone. I, myself, would have loved to have had something I could put my finger on in the message, such as a simple sentence like, Come to the café in Bucks Row immediately, or Miss Nichols will die. Unfortunately, the only thing I had was my infamous gut feeling, and nothing else.
"I am sorry, Miss Borden, but if there was no immediate emergency, then unfortunately there is nothing I can do for you," O'Malley declared, just as I expected he would. "Why don't you come by first thing tomorrow morning and file a report against the unknown person." I snorted and didn't even try to hide the sound. The phone conversation with him had been more exhausting for me than a full eight-hour workday. I was tired, and I longed for my bed, however, I was not giving up that easily. I didn't want to tell him who I really was—or rather, who my father was, and to what this video was really referring—but if I had to do it, then I would.
"And what if there is a threat?" I asked him. "The video is very strange, and I don't believe for one second that the fear in the woman's eyes is mere pretense."
Now, it was he who snorted loudly.
"Ma'am," he said, stretching the word out until he was actually forced to take a breath. "Let me suggest something to you. I will give you the email address of the detective in charge, and you can send him your message, including the video, directly. I will let him know that you will contact him, and he will look at it as soon as he can."
"No," I said firmly, although I hardly had the strength to object anymore. How nice it would have been, simply to agree with everything he said, and to trust that the police would take this matter into their own hands. "I want to speak to Detective Sawyer, immediately." I was getting tired of him. "I can understand that you don't want to give me his private phone number, so please, do me the courtesy of calling him and asking him to call me back." At the last moment I decided against adding, "He's got my number." It would only complicate things if O'Malley knew there was history between Jacob and me.
"As I said, I will gladly give you the email address for the detective in charge, and he will get back to you as soon as he can. Detective Sawyer is not only off duty, he's also not responsible for this kind of job, since he works in a different department," he explained. I could hear him drinking something, all calm, while I sat there with sweat pouring down my spine.
"I don't want to send an electronic message; I want to talk to him—right now."
I sincerely hoped that O'Malley was slowly but surely losing his patience, and he would just put me through. To ensure my call wouldn't be dismissed as that of a crazy person and possibly forgotten about, I added, "Do you want to be the person who could have saved this woman when you had the chance, but didn't? Could you live with that on your conscience?"
What would normally work on a television crime series, didn't stand a chance with this stubborn officer.
"Yes, Miss Borden—I could do that very well," he replied in a frosty tone. "Because I don't like to waste resources that are needed elsewhere."
I opened my mouth to say something, but at that very moment, I heard a muted male voice saying something to O'Malley. It rustled. He clearly covered the phone, or the microphone of his headset with his hand, said something, and then suddenly I found myself talking to the other man.
"This is Detective Jacob Sawyer," the man said.
His voice immediately gave me goosebumps all over my entire body. It was still exactly the same as I remembered it—deep and so full of easy confidence—and I felt my knees buckling with relief. I was happy I was sitting down at that moment, because the pent-up tension vanished so quickly from my body, I would have undoubtedly fallen to the floor otherwise. How was it possible that those five words carried such authority?
"What can I do for you?"
Obviously, O'Malley hadn't told him who the person on the line was, because he spoke to me as if I were a stranger.
"Jacob, it's me. Clara."
He inhaled sharply.
…
End of the sneak peek.
Get the book here:
Kindle eBook on Amazon
Paperback on Amazon
(Paid Links to Amazon)
Cover Photography:
Michelle Lancaster
www.michellelancaster.com
---
Read another romantic suspense—Saint or Sinner