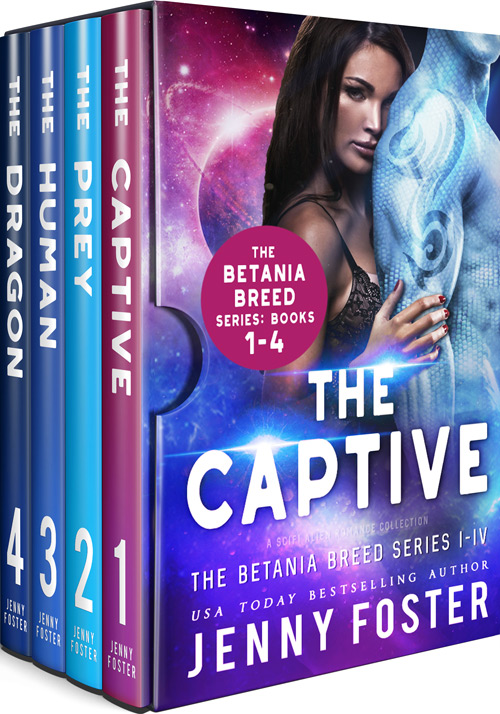 The Betania Breed Series Books 1-4
A Sci-Fi Alien Romance Collection (18+), Length: 800+ Pages
Let yourself be carried away to a grandiose SciFi world. With this COMPLETE collection you are holding all four Betania Breed SciFi romance novels in your hands – and mysterious background material is included.
The Captive (Original 2018 Edition)
Betania Breed Book One

I am one of the few people who hasn't given up the fight against the Sethari yet. I would rather die than surrender to the aliens who have enslaved us humans for more than one hundred years. Then the unthinkable happens: I am awarded to the leader of the aliens, so I can bear him healthy, viable children. I am prepared for anything, except this one thing – that this merciless warrior, with his strange eyes and scaly skin, would awaken feelings in me…
The Prey
Betania Breed Book Two

Johar is the most merciless and successful bounty hunter there is. His reputation is legendary, for he has never let any prey slip through his fingers. His creator's beautiful daughter hates Johar and lets him feel it every waking minute. But Johar knows something about her that nobody else knows. Not even she herself… The book takes place a few months after the events of book 1.
The Human
Betania Breed Book Three
Talon Delkhari was the mightiest warlord of his people, until he dared to contradict his king. Instead of granting him an honorable death in the fight against their enemies, the king made him his chamberlain. His newest conquest is from Earth. He won her in a game, and Talon is supposed to deliver her safely to his bed. An easy assignment for someone like Talon. That's what he thought, anyway, until this human woman awakens the predator lurking under his skin… The book takes place a few years after the events of book 2.
The Dragon
Betania Breed Book Four
The fourth volume takes place shortly after the events in book 3. Coran Burke is an elite undercover agent from Earth. The tough and emotionless fighter has never failed. His new mission leads him to Dassuria where he is pursuing a dangerous dragon lord. At the center of his investigation is a woman who has a lot to hide – but despite her entanglement with the dragon lord, Coran can't get her out of his head…
* * * A SciFi Alien Alpha Romance Collection. Book 1-4 of the Betania Breed Series. * * *
Warning: Intended for mature audiences only.
Length: Total over 800+ pages
Dark. Powerful. Sexy. This will be a ride you won't want to miss.
---
Amazon Reviewers
"Missing this would be a huge mistake." -Amazon Reviewer
"Outstanding Series!!!!!" -Amazon Reviewer
"The storylines are fast paced and unique. The characters are endearing and well developed." -Amazon Reviewer
"Keeps you reading and wanting more." -Amazon Reviewer
"…action packed descriptive and reads like a movie plot." -Amazon Reviewer
You get hours of Sci-Fi romance that will have you captivated until the last page." -Amazon Reviewer
"I couldn't put the books down! ❤️" -GoodReads Reviewer
"Do NOT miss this series, it is Sci-Fi at it's best." -Amazon Reviewer
"Incredible characters bring you along a journey through four amazing books." -Amazon Reviewer
"Very well written and well meshed characters with an amazing story." -Amazon Reviewer
"The plots are full of twists and turns." -Amazon Reviewer
"⭐⭐⭐⭐⭐ Five stars from me." -Amazon Reviewer
"These stories clearly took a lot of thought since they follow each other but can still be read individually." -Amazon Reviewer
…twists that kept me reading and enjoying this great new alien world." -Amazon Reviewer
"You won't be sorry." -Amazon Reviewer
"Definitely a series worth reading!" -Amazon Reviewer
Audible.com
(Paid Link to Amazon)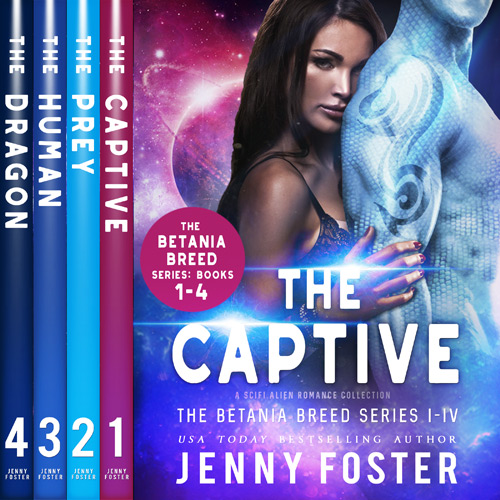 Also available as audiobook on Audible
Length: 25 hrs and 51 mins
Narrated by: Stella Bloom, Justin Eyre, Angela Daw, D. C. Cole
Audible.com
(Paid Link to Amazon)