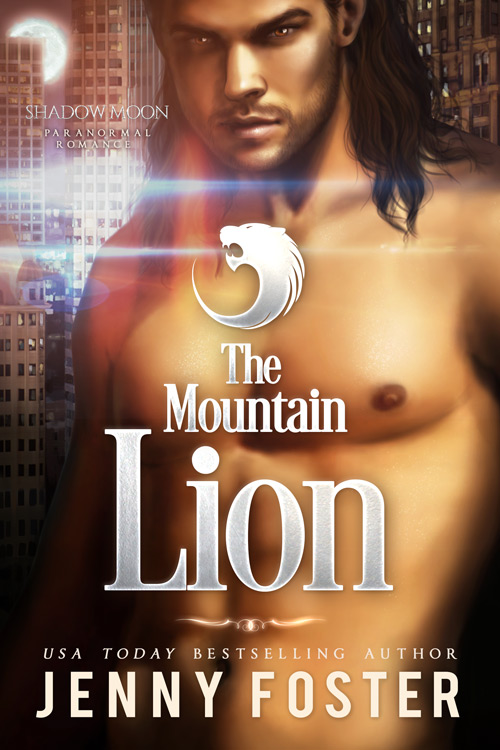 Paranormal Romance Novel, Length: ca. 200 Pages
Available on Amazon.com (Paid Link)

Outcast. Killer. Bastard.
I've been given many names, and none is a lie.
However, my true nature is a different one.
They call me when they have no other choice.
But my help comes at a price.
The trail of the man threatening my clan leads to New York City.
He hides within the heart of this filth pit.
I'll be his judge.
I'll be his executioner.
He only has one weakness: his daughter, Hope.
She's everything I despise—rich and spoiled.
But in her heart, I discover something that gets under my skin.
Empathy.
Maybe even love.
The predator within me must and will have her—at any cost.
Deep inside, I feel I have to be careful.
Or the one who pays the price this time—will be me.

In Jenny Foster's paranormal romance, a suspenseful story about an unexpectedly passionate love awaits you. Tension-filled, sensual and gripping—that's The Mountain Lion.
Who is the hero in The Mountain Lion? His name is Ash, and he's a man who lives—unequalled—between two worlds. Ash is a hunter whose human skin conceals a predator within. In his chest beats the heart of a mountain lion, fearless and loyal.
When Ash comes to New York to hunt down the man who threatens his clan, he knows his opponent's beautiful daughter Hope is his only weakness. But the last thing he expects happens. Hope revives feelings in Ash's human heart…

The Mountain Lion (Shadow Moon)
Paranormal Romance Novel
Available on Amazon.com (Paid Link)
---
"This might be one of my favorites from the author. This was a very intense paranormal romance with lots of danger and smoking hot chemistry that really had me glued to my seat." -Amazon Reviewer
"OMG! This is a really great shifter story and also a "who dun it?" mystery." -Amazon Reviewer
"The characters are charismatic and incredibly likeable and the plot flows well with a writing style that is easy to read and is completely captivating." -Amazon Reviewer
"Fabulous!!!!!" -Amazon Reviewer
"I loved this book! I have read a few sci-fi romances from this author and they were great. But this PNR absolutely rocked it! I could not put it down." -Amazon Reviewer
"LOVE THIS BOOK…." -Amazon Reviewer
"Passionately written action adventure with just the right touch of heat. I loved this awesome paranormal romance. 5 Stars" -Amazon Reviewer
"I felt like I could feel the sizzle between Hope and Ash. Can not wait to read more. There is plenty of excitement and it's more than just a love story." -Amazon Reviewer
"purrrrrrrrr. Absolutely intense!" -Amazon Reviewer
"Tons of action and steamy sex. I've never read any of jenny Foster's books before, but will be looking for more." -Amazon Reviewer
"This book was really good. It's been a while since I have read one of Ms. Forster's books and I forgot how much I enjoyed them. This book had a little bit of everything mystery, alpha males and it kept you on your toes wondering what was going to happen next." -Amazon Reviewer
"Her writing draws you in and keeps you involved throughout the whole story, I found myself in love with not only the characters but also the world she created. Her descriptions of the characters and their feelings are so involved, you can truly picture it in your mind." -Amazon Reviewer
"Great story, great mystery, great writer!" -Amazon Reviewer
"I have read several books by this author and I have found them to be a very interesting and enjoy book and this book is no exception. Once I started reading it, I couldn't put it down, till I finished the last page." -Amazon Reviewer
"The story of Hope and Ash – love the suspense, drama – love a good woman turns a good man even better!! (ok, took some work on her part!! LOL) – love the book!!!" -Amazon Reviewer
---
Teaser
At the same time, in the Black Hills, South Dakota
For the last time, Ash stroked the naked back of the woman, who arched to his touch like a cat to the hand petting it. She was no shapeshifter; he would have sensed that during their encounter in the city library, but she definitely had something feline about her. Her green eyes had flashed at him challengingly, behind the glasses with the black-framed lenses, as he inquired about searching the latest issues of various New York City newspapers for specific items. Ash had recognized her willingness, as unequivocally as the hunter in him sensed its prey.
"Why don't you use one of our internet workstations?" She had gestured with her left hand (not wearing a wedding ring, he immediately noticed), to some computers at the far end of the room. "If you like, I'll show you a few tricks so you can narrow down your search. I don't know how much time you have …"
From that moment on, things had taken their course. When he had leaned over her to get a better look at the screen, the hairs on the back of her neck had stood on end, as if she sensed the danger that emanated from him.
But that night, the only risk she took wasn't one she would regret. For a few hours, he wanted her slinky body—nothing more, nothing less. He smiled at the memory of how delicious she had tasted, and how her gently curved hips had arched, first toward his hands and then toward his hard shaft, to take him in as deeply as she possibly could. When she came, she had called his name, the third time, barely louder than a sigh.
Although the mountain lion in him was willing to drive her to yet another orgasm, Ash was well aware of the limitations of human women and had held the predator back. However, the librarian had surprised him by rolling onto her belly and stretching her pretty apple-shaped ass toward him, begging him with unmistakable words to do things to her that no good girl dared to think.
He slipped on his jeans and grabbed a T-shirt. Ash had gotten the information he needed and also an unexpected bonus, but now it was high time to leave. He had to pick up his brother, actually his half-brother, who had travelled to New York City with him at their father's express wish to "support" him.
He sat down on the edge of the bed, pushed aside the woman's hair, and kissed her neck. He ignored her inviting sigh. "Thanks for a wonderful night," he said and stood up again. "Coffee is on the kitchen table. Pull the door shut behind you, will you?"
No promises, no bonds.
As long as he kept to his unwritten rule not to repeat the night, regardless of how big the temptation, he wouldn't have to disappoint her.
* * *
Eight hours later, he stopped at a gas station on the interstate. His brother, who had slept peacefully in the passenger seat for most of the trip, rubbed the sleep from his eyes.
"Getting us a coffee?"
They still had most of their drive ahead of them, but Ash wanted to at least reach Chicago before they looked for a motel.
Nolyn grumbled, but so quietly that Ash didn't need to react to it. He raised his eyebrows, which was enough to bring the younger mountain lion to his senses. As much as he loved his brother, he could not shut his eyes to the fact that his parents had spoiled Nolyn quite a bit. Ash valued his father's second wife, but if she had one fault, it was her too-soft heart toward her children. Which did include himself, as Ash had to admit, and he felt how his lips pulled into a smile. Anyway, it would be good for Nolyn to get out of the reservation for a while.
When his brother returned, Ash handed him the newspaper clippings he had copied in the library the day before.
"Here," he said. "I'm sure we have our first lead, but I would like to hear your opinion."
"Four eyes see more than two, right?" Although Nolyn tried hard to put on an unreadable expression, Ash felt his little brother's pride.
"Absolutely," Ash replied, looking to the left as he turned back onto the interstate. His unrest grew with each mile they traveled. The prospect of spending the next few weeks in the big city was only one of the reasons for his increasing vigilance. He'd heard that New York was firmly in the hands of the panthers, and while he was certain that he could ignore the ancient feud between mountain lions and the black-furs long enough to do his job, he was not so sure about Nolyn. He remembered the horror stories they told the children on the reservation about man-eating panthers all too well: If you're not good, the black paws will come and get you. Or the teasing of the other children, who had claimed that he was a changeling and that the real Ash had been swapped at birth by the panthers for one of their own children, without his mother noticing it.
Whatever, he thought and looked out to the interstate, which stretched endlessly ahead of him. He was certain that he was on the right track for his prey, and that he needed nothing other than a little patience and the mercilessness of a hunter seeking his prey.
* * *
Three days later, New York City
The elevator, which carried him to the roof terrace of the Vandermeres, came to a halt. Ash held out his arm to the older woman, whom he had persuaded to bring him to the charity party as a companion, and she squeezed it soothingly. The surprisingly sensitive woman sensed his otherness, although the mountain lion would hold back until Ash gave it a different order. Ash wanted to experience the first few minutes at the Vandermere's reception as a human before he sent the predator on the prowl. He was often helped by a combination of the human and the animal perspectives, which created a more comprehensive picture of the person under observation than would have been possible if he had viewed it with only one of his souls.
The doors opened and revealed the crème de la crème of New York City's rich and beautiful. Muted voices, subtle laughter, and the music from a string quartet, playing discreetly in the background, reached his ears. His eyes noticed the expensively dressed and bejeweled women, clinging to the arms of their men, who wore their alleged power like coats.
Then something happened, which he had not anticipated.
A scent, sweeter than anything he had smelled, reached his nose, and awoke the mountain lion from its waiting posture. The predator spread its claws, turned its head, and pin-pointed the cause of the seductive scent at the same time as Ash did.
Reddish-blonde hair gleamed in the dim party lighting like a torch that showed him the way.
A curvy figure, whose sleekness Ash felt, despite the distance separating them.
She was beautiful, there was no doubt about that, but what hit him like a bullet from the barrel of a gun was her sensuality. Her firm breasts topped a narrow waist that blended seamlessly into round hips. His fingers longed to caress her womanly curves, to explore her smooth skin first with his hands and then with his tongue.
Without even saying a word to her, Ash knew how to seduce her—with a slow caress, with hands stroking her fevered skin until she could not wait to feel him inside of her. He heard the throbbing of her scared little heart.
The sound echoed in his body, intensifying the expectant tingling sensation on his skin and in his loins.
The predator in him raised its head and scented.
He blinked and saw eyes, as green as the forests of his homeland.
Hope Vandermere, the daughter of the man he was pursuing, looked at him. The beast inside of him stumbled.
…
End of the teaser.
Continue the Moon Series in The Mountain Lion (Shadow Moon)
Available on Amazon.com (Paid Link)
Read another book in the series – Lost Moon