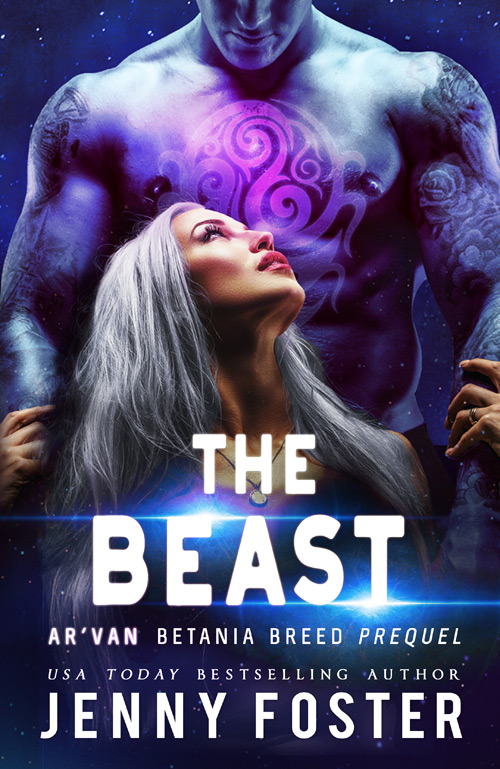 Ar'Van – The Beast
A human female.
A ruthless alien.
A dangerous beast she awakens inside of him.
His name is Ar'Van.
He is the best hunter money can buy.
Tall, dangerous, non-human – and the last of his kind.
When a new assignment brings him to Earth, he doesn't expect much resistance. The women he is supposed to deliver to the warlord of the Qua'Hathri are easy targets. He could outwit the earth men that protect them, with his eyes closed.
But every plan can go wrong.
Not because he is careless. He just hadn't expected his worst enemy and best accomplice to feel drawn to one of them. Inside of him lives a powerful beast.
Until now, he has been able to keep it in check.
But in the presence of that female human, his dark side starts to show itself. The monster wants to own her—as does he. When a murderer starts his bloody work in the confines of his spaceship, Ar'Van has only one choice: He must save her life.
At any cost.
Even if it means letting the beast come to light.
From USA Today Bestselling Author Jenny Foster comes The Beast. Dark. Powerful. Sexy. This will be a ride you won't want to miss.

* * * The Beast is a SciFi Alien Alpha Romance novel with suspense.* * *
Prequel of the Betania Breed Series.
Warning: Intended for mature audiences.
Can be read as standalone. No cliffhanger.
Get the book here:
Kindle eBook on Amazon | Paperback | Other Retailers
(Paid Links to Amazon)
? Listening sample on Bookfunnel | Audiobook on Audible
Read an excerpt below.

Here's what some of you had to say:
"Talk about "starting" a series with a bang" -Amazon Reviewer
"This is not a cookie cutter PNR. I liked this book. It was different from other Paranormal Romance that I've read, and that's a very good thing." -Amazon Reviewer
"Talk about a winner. Yep! You guessed it. Right here. If you're looking for excitement, adventure along with action, you've got it." -TOP 1000 REVIEWER
"This book about Ar'Van and Mia is a blockbuster!" -Amazon Reviewer
"There is steamy sexy scenes and light banter and also a twist I didn't see coming. This is a must read!!!" –Amazon Reviewer
"I love this prequel." -VINE VOICE
"…on top of love finding it way, there are two murders to solve. Loved every single word." –Amazon Reviewer
"I absolutely loved the main character Ar'van. The description of the conditions on this future earth are amazing…the twists and turns in this PR are different, making it an interesting journey." –Amazon Reviewer
"Absolutely Excellent!!" –Amazon Reviewer
"This is on my top ten list." –Amazon Reviewer
"Smooth read, really sucked me in. Had a solid, believable storyline with a good twist, that worked. Highly recommend." –Amazon Reviewer
"I am hooked. Started The Beast one evening and just couldn't put it down. Good strong characters enough suspense and a hot alien. The sparks that fly off Mia and Ar'van are addictive." –Amazon Reviewer
"It has just about everything I love." –Amazon Reviewer
"Another winner from Ms. Foster" –Amazon Reviewer
"…so much chemistry that the pages sizzle!" –Amazon Reviewer
"I couldn't give this book less than 5 stars. In all actuality it deserves twice that. So I'm going to hit it with 10 huge book lover stars as well." –Amazon Reviewer
""I usually don't like prequels, but this didn't seem like one. Jenny weaves a story about two beings without it seeming to be only about them. It's a remarkable romance novel. Well worth the expense of time and money to read." -Amazon Reviewer
"I'm getting every book." -Amazon Reviewer
"I loved every single minute of devouring this captivating storyline and 100% believe that I am a new Foster fan for life." -Amazon Reviewer
""When I received this book I literally stayed up till 3 am just because I had to finish. 5 Out Of This World Stars." -Amazon Reviewer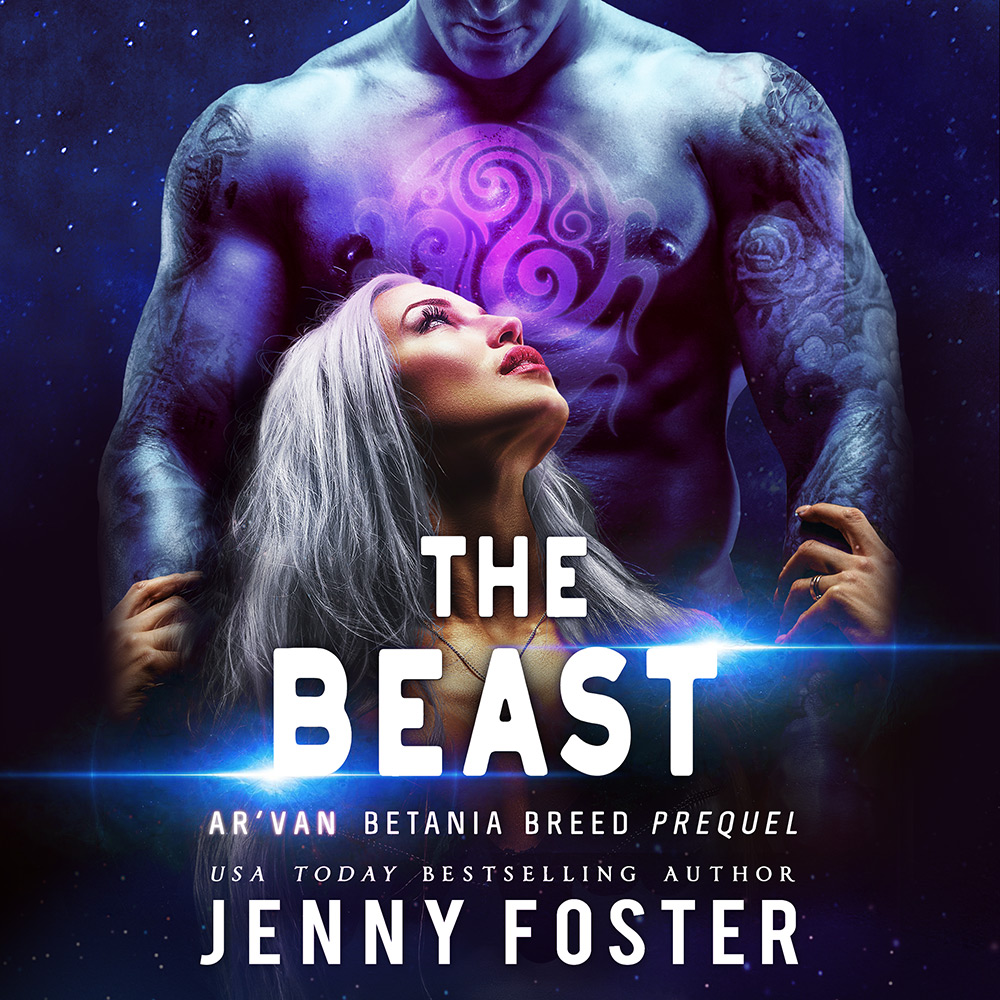 ? Also available as audiobook. For the audiobook sample Click Here.
Trivia about The Beast
What do you do with a ruthless kidnapper?
What do you do with a man who is hot and cold and cruel and, at some point, is just standing right in front of you?
You capture him on paper.
In the case of Ar'Van, this was a real challenge, and not just for the woman whom I created for him. Of all of my heroes, he is the one I found most difficult to love (and I love all of them.) He is arrogant and distant. He plays a cruel little game with the women he has abducted. How can you love a man like that?
And yet, there was something about him that wouldn't let go of me. I thought constantly about why he is the way he just is. Unlike in real life, I didn't need to send him to therapy so I could live with him. At some point, it became clear to me that he has a dark side that wants to come out. And when that problem was solved, I knew that I could fully play out romantic side without getting corny. Because, after they survived danger – and oh, what danger! – their love is strong enough for the rest of their lives.


---
Excerpt
All it took was one signal, and the raw cheer from the throats of his men was reduced to an expectant rumble. The commander's eyes wandered over the twenty chosen men who were accompanying him on the raid. Then he ended the meeting. Their destination was almost in view, and now they needed to be extra vigilant, so their spaceship would travel neatly and stealthily under the terrestrial protective shields. With a sweeping arm, Ar'Van sent his men from the room. Immediately, every one of them went to his station where he was at his best and more.
He smiled, as he thought about the unsuspecting inhabitants of the blue planet. In the next few hours, they would lose the most valuable thing left to them: fertile women. It was his job to ensure that the Qua'Hathri received an impressive selection of female humans who were of child bearing age. They were paying him very well to grab a few specimens of the human race, so the Qua'Hathri's scientists could test them for their genetic suitability. Before the warlord of the militant Qua'Hathri proposed a deal to the unsuspecting Earthlings, he wanted to be sure that their women could successfully produce offspring with them. The humans would draw the short stick in this deal, but that didn't matter to Ar'Van. It wasn't part of his job description to negotiate a fair contract with the Earthlings. Go in, grab the targets, get out—that was a concept that had worked well for him up to this point, no matter if he was grabbing women, artifacts or other junk his employer was lusting for. In the case of the Qua'Hathri, it was fertile women they needed. Khazaar, that sly bastard, and his men, would even look like heroes in their deal with the humans, which would guarantee victory for the long-suffering humans over the Sethari.
By then, he and his men would be many space dollars richer and could take their time choosing their next assignment.
Ar'Van's smile deepened when a three-dimensional image of the earth appeared on his monitor. It was not a benevolent smile, but then, the commander wasn't known for his benevolence or his empathy—everyone who had made it on to his hand-selected team of fighters knew this. He wasn't just one of the best predators you could get for your money. He was the best, plain and simple. This had nothing to do with bragging, but everything to do with his perfect 100 percent success rate. He who hired Ar'Van to get any kind of object, paid a lot, and always got what he wanted.
The Earth was a new hunting ground for Ar'Van. He hadn't been there very often. He leaned back and crossed his arms behind his head. The hunting fever was running through his veins, and as soon as he was on firm ground, he would take up the trail and not return to the ship until he knew that the targeted objects were safely on board. His librarian's research had given him the perfect idea. His prey wasn't very complicated, and his disguise as a doctor was perfect. Instead of painstakingly having to look for fertile women, they would come to him. Then the trap would snap shut. Assignment completed.
He had no doubt that he and his team would finish the hunt for fertile human women quickly and efficiently.
* * *
He would need to postpone the decision about how he would decorate his skin next, until a later time. A vibration alarm presented no cause for concern, because it only pointed to an anomaly. It could be anything, from an overly full trash shaft to an improperly latched door in the safety zone, where weapons and similar things were stored. Ar'Van looked at the number the system was displaying, and turned on the security camera that was active in that zone. After a few seconds, he had found the reason for the alarm.
The door to the room where the women were waiting for their delivery to the Qua'Hathri warriors, was open. And who had opened the door and was now creeping carefully down the hallway? Of course, she was the only one who seemed to not be affected by the drug. Ar'Van didn't know if he should admire her or not. He pressed his lips together and saw how the Amazon with the unusually light hair, who had seen through his disguise, made her way closer and closer to the men's quarters. Should he let her go, or stop her before she got too far?
In a way, he admired the woman, even though she was only a human and didn't have any remarkable skills. At least, not any that counted for anything in his world. And yet… there she was, sneaking down the hallway, as if she didn't know fear. Without knowing it, his sensual lips pulled into a smile. Her scent, stored in his olfactory memory, hadn't told him any of this. Normally, he was never wrong when he interpreted the scent of an opponent. The woman had smelled seductive, but nothing in her sweet scent had suggested that her well-rounded body was hiding a brave soul. Maybe, he smiled to himself, she was just desperate enough to look for an escape in this unfamiliar territory. Who could guess what was going on in her pretty head?
His eyes rested on her pretty backside longer than necessary. Again, unwanted lascivious images rose before his eyes, and his manhood started throbbing with yearning. He wondered in which position he could bring her to climax the fastest, and imagined her face as she was coming. He imagined himself penetrating her, filling her completely, and feeling her body arching against his, in desperate longing for physical release. He ignored the increasingly urgent throbbing in his loins, even if it was becoming more and more difficult to chase her sumptuous body from his thoughts.
He leaned back, crossed his arms and roughly pushed any thoughts about sex to the side.
First, he would watch what she was up to. Her attempt at escape was doomed from the start, but there was nothing preventing him from enjoying the sight of her, for a while. Ar'Van wasn't expecting his employers for another week, and until then, there was plenty of time for what he called educational measures. Even if he should decide to hand the woman over to the Qua'Hathri, after all, and to keep a different one, he could still find out what set her apart from the others. One thought wouldn't leave him alone though: Why had the drug not worked on her, of all people?
He told himself that his thirst for knowledge had nothing to do with how great she smelled. He only needed to find out, in order to conduct any future expeditions on Earth without any unnecessary risks.
That was all.
Ar'Van watched with growing interest as the woman discovered the kitchen. The heart-shaped face of the Amazon, as he liked to call her, lost every expression for a moment. Then her eyes widened. She saw the fruit and closed her eyes. Then she opened them again, and sniffed at the soup pot.
He watched as her fingers picked off the grapes. One after the other, they disappeared in her mouth, and in between, she closed her eyes in enjoyment. It was delicious torture for him to watch her do this. A small shiver ran down his back, and one of the premonitions he had from time to time, hit him with full force. This woman could be his ruin. Even on the monitor, she seemed more desirable than any other woman who had ever made her way into his bed. And there had been quite a few. There was only one way Ar'Van could rid himself of this unhealthy fascination with this strange, yet familiar, being.
He had to possess her.
When his lust for her had been silenced, and he had uncovered all of her secrets, then he could hand her to the Qua'Hathri on a silver tray. Let them try to deal with this rebellious female human. After all, he had not been hired to deliver a hand-tamed specimen to them. Although… the smile on his face deepened. Once he had brought the little wildcat to his bed, her true colors would come out. His body prickled with anticipation at the thought of taming her, similar to the feeling he had before a hunt. Taming her would distract the other one from his blood thirst for a while. He just needed to be careful that the beast didn't damage her. A soft growl inside confirmed that the other one didn't have anything against a small distraction.
Ar'Van looked at the monitor again and raised his eyebrows in astonishment. He had looked away for only half a minute, and in that time, she had created complete chaos in the kitchen. Somehow, she had managed to bury herself under a bunch of kitchen utensils. The noise resulting from her clumsiness was already drawing the attention of some of his men, and they were starting to come out into the hallway.
It was time to intervene. Ar'Van thought of continuing to watch for a little while longer, to see how the Amazon would fare against his men, but decided against it when he saw Kulik's massive figure. That beefy guy was, despite his massive size, a genius safe cracker, but he had one weak spot: women. When it came to the Amazon, Ar'Van wasn't willing to take any risks.
He was the boss.
She belonged to him.
Even if she didn't know it yet.
…
---
Get the book here:
Kindle eBook on Amazon | Paperback | Other Retailers
(Paid Links to Amazon)
? Listening sample on Bookfunnel | Audiobook on Audible

Cover Design:
ARP Studio
---
Read the next book in the Betania Breed series—The Captive
Betania Breed reading order:
The Captive
The Prey
The Human
The Dragon